From harvest to stove top: Rhubarb in pictures...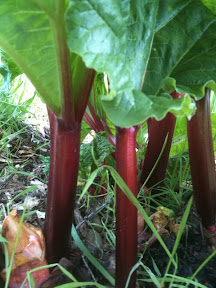 growing tall and beautiful
i love looking at it from the bottom.
The harvest. Some of them are smaller than they should be because of thinning.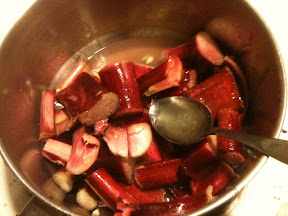 All cut up and cooking.
With a little ginger, lemon juice and honey I got two jars of rhubarb compote.
Delicious and pretty in hot pink! I love having fruit in the garden.
Rhubarb Compote Recipe:
Cut 1 lb rhubarb into 1 inch seg
Chop ginger about tablespoon
Dollop of lemon juice
1/2 cup of h2o
50oz of honey
1 tsp of sugar to taste

Simmer for 5-7 minutes until it breaks down.
Enjoy!
Greetings from the Garden Ms.Derr