Worked on the plot in the sunshine on Saturday and Sunday this week.
My little cardoon looks so happy in the perennial bed and next to the great patch of oregano!
After a couple of hours of sifting the quack grass rhizomes out of the future squash bed, I gave up because I had only sifted about a third of what i needed to do. So I changed tactics: on the far side is new imported soil that should be free of quack grass, next to that is the dirt that I just turned and hand picked out the rhizomes, the closest is the sifted dirt from the far side without rhizomes hopefully. We will see how that works!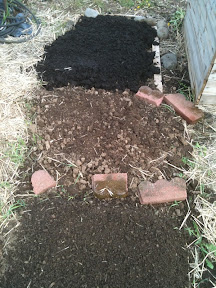 My handy woodworking friend came over and helped me secure the A-frame a little more in the tomato bed. And the soil is all prepped and hopefully this bed is all set for the tomatoes that are scheduled to go in memorial weekend when my mom is in town!
All in all the plot is looking really good and I am super happy with it we just have to get those summer fruits in and I will be ready for the summer!
Greetings from the Garden Ms.Derr