Last time the sun came out I took pictures of the sidewalk garden.
Salad bed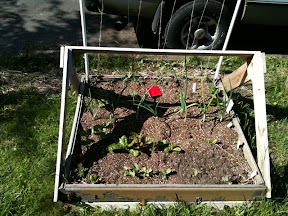 Peas favas onions and chard
Scallions garlic and spinach
Parsnips kale peas and brocolli
My negronne fig is leafing out. I am ready for warmer weather is still rainy and in the mid-50s this week.
Hop is going like gang-busters.
I am transplanting my tomatoes this weekend with my personal master gardener so stay tuned!!
Greetings from the Lunch Land
-- Ms.Derr